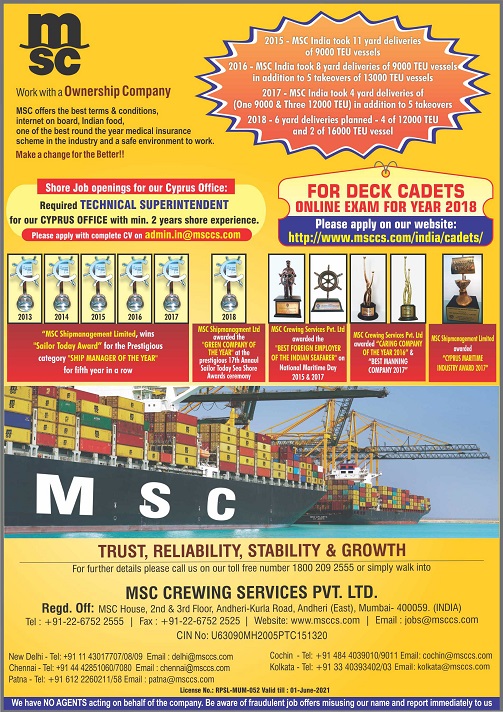 MSC CREWING SERVICES PVT. LTD.

Be a part of MSC's Global Family
This ownership giant of container vessels with a global fleet of over 400 Box Carriers seeks...

Progressive Mariners
to help Continue it's Success story.

Invites applications from Experienced
MASTERS
CHIEF OFFICERS
CHIEF ENGINEERS
SECOND OFFICERS
SECOND ENGINEERS
THIRD OFFICERS
THIRD ENGINEERS
ELECTRICAL OFFICERS
FOURTH ENGINEERS
Revised wages

Please send resume to :

MSC CREWING SERVICES PVT. LTD.

MSC house, 2nd - 3rd Floor,
andheri - kurla road,
andheri (eAST), Mumbai - 400059, INDIA.
Tel : +91-22-6752 2555, Fax : +91-22-6752 2525

Toll FREE NO. : 1800 209 2555
Email: jobs@msccs.com, Website : www.msccs.com.
On offer are

Best wages
Choose your own tour of duty
Shore placement prospects in container operations
Terms & conditions - the best in the industry
Examination Bonus
Full Indian Manning
Ownership work environment
Indian Cuisine Onboard
We also have offices in Delhi, Kochi, Kolkata, Chennai and Patna
License No. RPSL-MUM-052